Funke Fatai, a Nigerian lady as identifies on Twitter has made some profound statements and also revealed how one(specifically for ladies) can maintain their relationship till the end.
ALSO READ: Ghanaian millionaire use "666" code in effort to immune against coronavirus
She shared tips and maintenance strategies concerning how one can maintain a long-lasting relationship.
She revealed that ladies should leave men on a dic.k free spree and allow them to chop other ladies as a way to maintain the relationship.
In her tweet, it is evident that she is already practicing what she is teaching, else she wouldn't be tweeting about it.
"I'm one of those people who won't subject my man to the same p*ssy the whole year. So when I'm in a relationship, every once in a while I offer my man a 3some with d female of MY choice. Pizza is nice, but not every day. Once in a while let d poor guy have some chicken or shrimp". Funke Tweeted.
ALSO READ: Independence Day astonishing photos from celebrities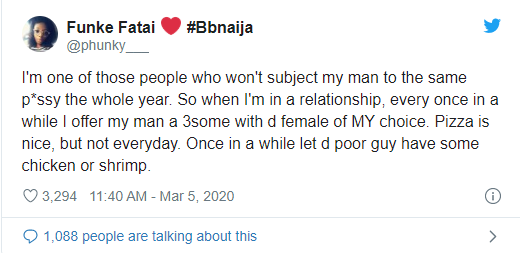 What are your thoughts? Men, Do you agree? Ladies, what do you have to add? Leave your suggestions and opinions in the comment session.